GWP: Gifts with Purchase!
What are they? Basically, in order to receive your gift, you must spend the said amount or more from any beauty counter, and you will received your item. Usually these are only given during promotional events during the year at department stores. Items that are included usually are makeup bags/purses filled with smaller sized skincare products, lipsticks, and blush. Ongoing Promotions:
Lancome/Dillards: Free Gift with a French Twist
Colors: Warm or Cool Price: Spend $29.50 or more Value: $110 Additional: Spend $55 total and get a Full Size $24 cleanser FREE!!
Nordstrom: Exclusive Beauty Gift
Receive a Nordstrom-exclusive Ruben Toledo cosmetics bag filled with 13 samples from your favorite beauty brands with your $100 beauty or fragrance purchase.
Product: Beauty bag filled with 13 samples Price: Spend $100 or more on beauty or fragrance Value: $$$$
Clinique/Nordstrom:
Receive three deluxe-size samples of Take the Day Off Makeup Remover for Lids, Lashes and Lips Product: 3 Skincare Samples Price: Spend over $40 or more
Value: $$
Clinique/Macy's: Beauty Bonus Product: Beauty Bag filled with Skincare and Beauty Samples Price: Spend $21.50 or more
Value: $50 Additional: Enter Code "Breakthru" when you order online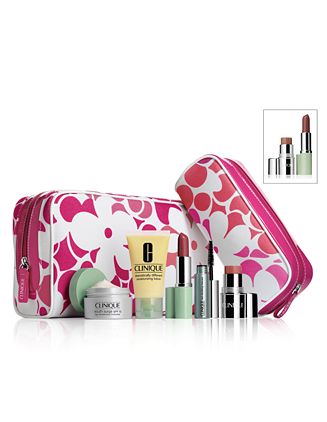 FYI: These Gifts are for a limited of time only at these participating department stores. Please read all detail information on their website for rules and terms of purchasing.