Cherry Culture
~ Spring Eyeshadow Sale ~ 25% OFF
Sephora
~ Value on the Rise ~ Sale Makeup Kits:
*Various kits on sale - Sephora, Clinique, Josie Maran, CoverFx, etc.*
Benefit
~ Free High Beam with any purchase over $55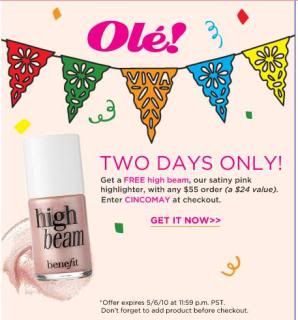 Too Faced
~ Free Full Size Eyeshadow with purchase of $35+
I haven't done one of these posts in a long while. If you would like to see me, comment below and let me know. I was also thinking of posting various deals on the side column throughout the week too. I'm always on the search for cool deals and discounts. It's awesome to know how much I would be able to save!
Got any to share? Feel free to email me or comment!
simplybeautiful
(I am not affiliated with said companies. For sole purpose of helping readers with discounts as well as for myself)